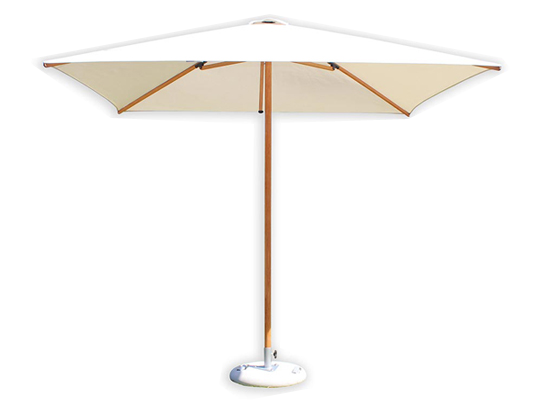 The Woody umbrella is a cost effective, simple, yet sturdy design. It utilizes an auto lock system with a re-enforced pushrod which uses a scratch proof locking pin. Using high quality materials and workmanship, the Woody is truly a remarkable product, ideal for corporate, private and promotional buyers.
Woody Square Parasols | In addition to the traditional wooden sun umbrella, the range has been developed to include stainless steel and aluminium products
Woody Range Shapes & Sizes
Finely crafted for lasting style
Tradewinds Parasols has adopted a zero defect manufacturing policy, but should a customer experience a quality related problem, the product will be covered by a 2 year limited warranty with full spares backup from our international network of distributors.
Sounds good? Great, but that's not all…. We are proud to announce our exclusive leasing programme for Tradewinds parasols as well! When you choose our so-called "PaaS" model, an abbreviation for "Parasol As A Service", you'll be signing up for a comprehensive service package without the need to become the owner of the parasols, thus saving a significant part of your budget for more branded materials.
"PaaS" starts with door-to-door delivery and installation of the parasols on your deck, terrace or patio. During the entire lease period, we carry out all necessary maintenance: collection, cleaning and storage in heated warehouses during winter months, so any parasol is returned to your venue in excellent shape at the start of spring. Finally, when the leasing term comes to an end, all parasols are recycled and/-or reused in order to contribute to circular economy.
Would you like to know more about our flexible leasing solutions? Contact us with any question you have.